PCGen Nominated for 2013 ENnie Award!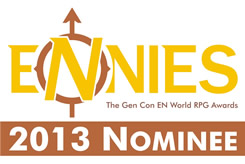 PCGen has been nominated for a 2013 GenCon EN World RPG Award for Best Software!

Others nominated in the Best Software category are:
The Crawler's Companion (Purple Sorcerer Games)

Cthulhu Mythos Encyclopedia (E-book Edition) (Arc Dream Publishing)

Dice & Dragons – 3D Dice Roller (simpleFun)

PCGen (PCGen)

Roll20 (The Orr Group, LLC)
Complete list of categories and nominees can be found on the EN World site here.